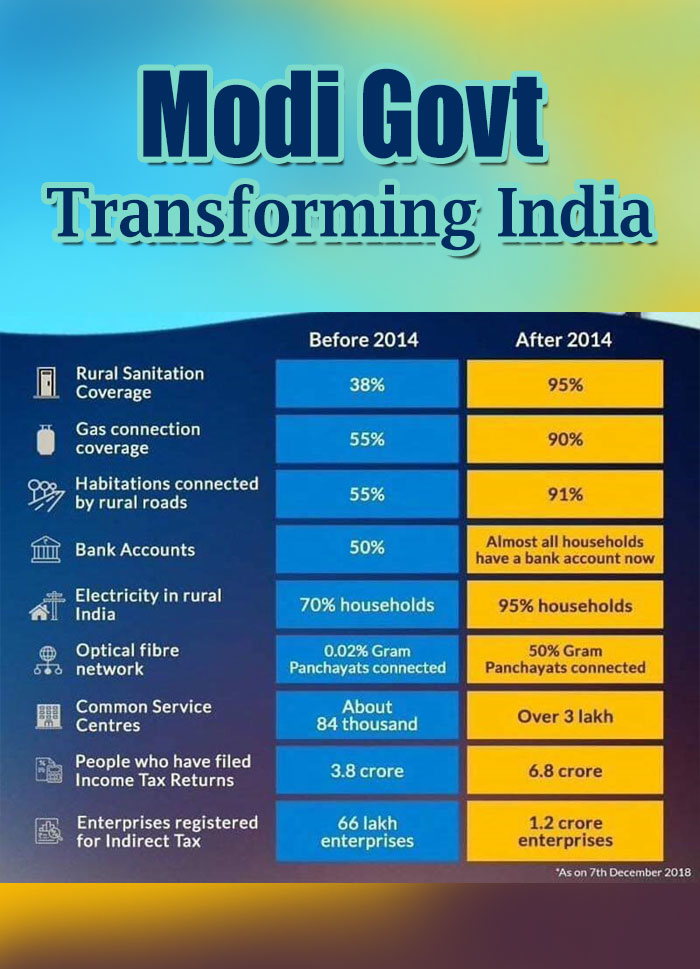 ---
Q.1. What has Modi done for me as an individual?
Q.2. Why is there no tax relief for middle class people?
Q.3. Even though PM Modi claims so much of development then why can't we see anything on ground?
Q.4. Why is Railways achievement seen very less in Karnataka, is it because majority of new train work is done in north India?
Q.5. Swacch Bharat Cess, Krishi Kalyan Cess, Education Cess amounts more than 1500 crore, but no progress on
these fronts which looks to be failure in governance. Why it has not happened way it was promised?
Q.6. Hastily implemented GST penalised general public with numerous price slabs, this was expected to be
stabilized but still entire nation is suffering, is it not a part of failure in governance?
Q.7. There is no policy to address population explosion, why is it that the govt does not have a futuristic view on this aspect?
Q.8.Why is the NDA govt interfering with the statutory bodies like CBI?
Q.9. Why the govt is not passing the ordinance on Ram Mandir and Sabrimala?
Q.10. If BJP is not playing politics with Ram Mandir, why is it being spoken about just 5 months before election?
Q.11. Why the central govt has not taken any stand on Mahadayi, even though BJP is in power in Goa?
Q.12. A Draconian Aadhar and the failed attempt to deny citizens a fundamental right to privacy which resulted in mass leakage data, will the govt take responsibility of intrusion of illegal immigrants, financial fraud etc.?
Q.13. Why the govt is not acting in swift mode addressing the issue of Gau Rakshak, other self-appointed group attacking Minorities, creating hostile situation across nation?
Q.14. Why has the govt failed in bringing Nirav Modi, Vijay Mallya back or at least communicate the difficulties to the people of the nation whereas Congress has made it as election issue and part of every speech?
Q.15. Why is there no firm stand on Uniform Civil Code?
Q.16. Why has PM Modi not brought back Black Money as he had promised in 2014?
Q.17. Why is it that PM Modi is more keen to monitor foreign policy, defence as compared to agricultural issues?
Q.18. What is Modi govt's Kashmir policy?
Q.19. Why are the prices of Petrol and Diesel very high?
Q.20. Fasal Bima Yojana has reached a very limited section of Farmers why?
Q.21. Why is the River Ganga not clean yet? Is Namami Gange a failure?
Q.22. Even after new health insurance schemes, healthcare remained unaffordable for the middle class and poor, why?
Q.23. Why is PM Modi inclined to help billionaires?
Q.24. Why has the Govt Failed in job creation?
Q.25. Why only few agricultural crops are included under MSP?
Q.26. Why have the Kashmiri Pandits not returned to their homes till now?
Q.27. Why are the results of Make in India and Skill India are not visible?
Q.28. Why has the govt failed to implement National curriculum framework across all state in all education institutions?
Q.29. Under NDA, FDI has been slipping, stock market plummeted, Rupee is in coma, and will the govt attribute this failure in its competency?
Q.30. Why is it that the Sansad Adarsh Gram Yojana considered seems like  a failure?
Q.31. The BJP had promised to launch Diamond Quadrilateral bullet train network project. However, it has made only a marginal headway on the Ahmedabad-Mumbai stretch, why?
Q.32. Corruption is under control at higher level. But why are the local authorities still corrupt?
Q.33. Demonetisation has completely failed to bring back black money, it is true?
Q.34. Farmers are protesting all across country for support price, no new Mandis have been introduced, why has the govt not been addressing core farmers issues?
Q.35. What is the govt doing about the Bangladeshi Infiltrators?
Q. 36 What is the Impact of 'National Nutrition Mission'?
Q. 37 What has the Modi Govt. done for North-East States?
Q.38 What has the Modi Government done for Hindu Cause?